10 OF THE BEST WINTER ACTIVITIES IN ALBERTA
10 of the Best Winter Activities in Alberta
Winter is an awesome time to be in Alberta. It's a sunny province with loads of crisp, blue sky days, perfect for getting outside and taking advantage of all that winter offers.
I've been lucky to experience a huge variety of winter adventure from Jasper all the way down to the Alberta-Montana border. These 10 recommendations for winter activities all come personally tested except for a couple of the festivals.
The beauty of Alberta on a winter's day
Cross-country skiing in Alberta
In Alberta we are spoiled for choices when it comes to cross-country skiing in the mountains. The trails at Bragg Creek after a fresh snowfall are fantastic, especially so since they're only 40 minutes from Calgary. The network of trails in and around Lake Louise are outstanding, particularly because of the amount of snow and the long season. Check out the Pipestone Trails just west of Lake Louise immediately off the Trans-Canada Highway, one of my favourite places to go.
Other top picks for cross-country skiing include Peter Lougheed Provincial Park, Cypress Hills Provincial Park and William A. Switzer Provincial Park near Hinton.
Abundant snow and a gorgeous backdrop on the trails around Lake Louise
Downhill Skiing and snowboarding in Alberta
Alberta is a great destination for fans of downhill skiing and snowboarding. Close to Calgary is Nakiska Ski Resort. In Banff National Park three resorts vie for your attention – Mount Norquay, Sunshine Village – home to Canada's first heated chairlift and Lake Louise Ski Resort with its exceptional scenery and vast choice of terrain. If you make it to Jasper National Park check out Marmot Basin, a well-designed resort that is a particularly good choice for families.
Mount Norquay

There are a couple of small ski resorts that cater to local markets including Rabbit Hill Snow Resort near Edmonton, Canyon Ski Resort in Red Deer and Pass Powderkeg Ski Area in Blairmore with fun night skiing here especially for kids. The most southern ski resort in the province Castle Mountain – bills itself as a mountain, not a ski hill that believes in deep powder and challenging terrain.
The scenery is stunning when you downhill ski at Lake Louise
Cat Skiing in Alberta
Castle Mountain is the place to go if you want to try cat skiing. Strap on a pair of fat skis, head out with a guide for the back bowls with "Secret Powder Stashes" and enjoy an awesome day floating on air. Cat skiing is only offered on Thursday, Friday and Saturday. Be sure to book a pair of fat skis when you reserve.
Cat skiing at Castle Mountain – Photo credit: Castle Mountain
Looking for powder stashes while cat skiing at Castle
Skating in Alberta
There are some exceptional skating rinks in Alberta. The standout – and probably the prettiest skating rink in the world is the one at Lake Louise. You can rent skates, play a game of shinny and warm up by an outdoor fire.
Skating at Lake Louise

The lagoon in Calgary's Bowness Park and the oval in Cypress Hills Provincial Park (where there's a slight downhill on one section which only adds to the excitement) are also excellent choices. In Edmonton try Hawrelak Park skating rink, located right in the heart of the River Valley or skate out in front of the pretty city hall. If you're in Jasper the oval rink at the Fairmont Jasper Park Lodge is a must-do activity.
Skating at Hawrelak Park in Edmonton =- Photo credit: Edmonton Tourism

Indoors you can never go wrong with the Olympic Oval at the University of Calgary but check the times for when they're open to the public.
Skating on the lagoon in Bowness Park, Calgary
Ice climbing in Alberta
From a distance ice climbing looks scary, even intimidating but I can tell you that both rappelling into Maligne Canyon in Jasper National Park and then climbing the frozen waterfalls with Rockaboo, a local company is tremendous fun, even empowering. It doesn't take long to learn the basics of ice climbing and then with a little practice, a couple of ice axes and a pair of crampons you'll be at the top of a giant icicle with a massive smile on your face. Johnston Canyon in Banff National Park and "The Junkyards" at Grassi Lakes are also good choices and easily accessible from Banff. Sign up with Yamnuska Mountain Adventures for those ones.
Iceclimbing in Maligne Canyon, Jasper National Park
Snowshoeing in Alberta
There are heaps of places to snowshoe in Alberta so it really boils down to where you're staying. Close to Calgary I love the extensive network of snowshoe trails in the West Bragg Creek area. Chester Lake in Kananaksis Country will take your breath away with its beauty on a blue bird day. In Banff National Park you can try the easy trails along the Bow River that start at the Cave and Basin area, the Spray River Trails starting a few hundred feet away from the Banff Springs Hotel or the Ink Pots Trail near Johnston Canyon. In Jasper try the Watchtower Trail via Medicine Lake or the easy trails around the Fairmont Jasper Park Lodge. If you're in the Edmonton area head for nearby Elk Island National Park where you can spend a delightful day snowshoeing – and looking for bison.
Snowshoeing on the trails in West Bragg Creek
Snowshoeing at Chester Lake in Kananaskis Country
Fat Tire Biking in Alberta
Whenever I'm out on a fat tire bike I get stopped because people are so curious about the sport. It's expensive to buy a bike but there are now loads of places to rent fat tire bikes including Soul Ski and Sport in Banff, Kananaskis Outfitters (behind the Delta Hotel in Kananaskis Country), NomadMobile Gear Rentals in Calgary and Revolution Cycle in Edmonton.
To have a pleasant experience on a fat tire bike you need packed, not fresh snow. The Marsh Loop up to Sundance Canyon along the Bow River is perfect for first time fat tire bike riders if you're in Banff. There are loads of trails with some nice downhill sections (brakes work well on snow) before you hit the Nakiska Ski Resort and there are lots of bike friendly trails around West Bragg Creek. In Edmonton, the river valley is the place to go while in Calgary you can explore the bike paths in winter or places like Nose Hill Park once the snow hits.
Fat tire biking on the West Bragg Creek trails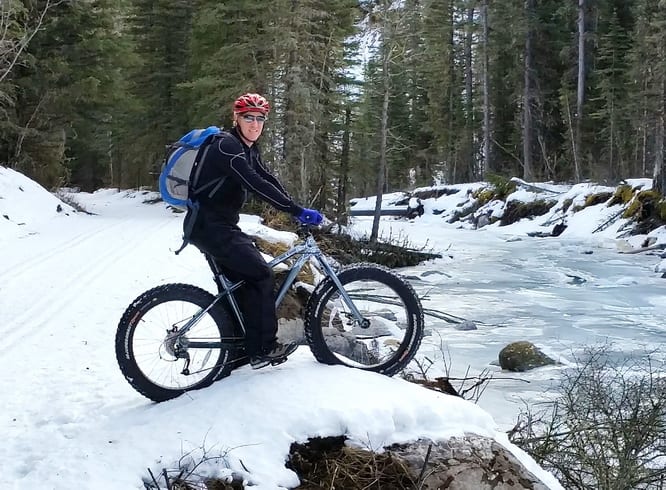 Fat tire biking in Kananaskis Country
Dogsledding in Alberta
Dogsledding is extremely popular as it appeals to all ages; it's both family friendly and romantic at the same time. Many tours are just a couple of hours long and for most people that's enough. But it is possible to do full day tours which I love as it's so much fun being out with the dogs. And these dogs love to run. I like the experience of driving the dogsled myself so check with each company before you book to see if that's an option.
Dogsledding with Howling Dog Tours by the Spray Lakes near Canmore

Dogsledding companies abound. There are three alone in Canmore – Howling Dog Tours, Snowy Owl Sled Dog Tours and Mad Dogs and Englishmen Expeditions; in Lake Louise there's Kingmik Dog Sled Tours and in Jasper Cold Fire Creek Dogsledding. Take your pick depending on your location.
Dogsledding at Boundary Ranch is a very family and couple friendly activity
Winter Festivals in Alberta
There are oodles of great festivals around the province to make winter even more interesting. In Lake Louise the Ice Magic Festival is always a huge hit. In fact it's so popular now you really need to plan your day so you spend time up at the lake and not in your car. It's on from January 18 – 28, 2018.
Ice sculptures at Lake Louise are a work of art

Edmonton, a city famous for its festivals will once again be hosting the Red Bull Crashed Ice event (a downhill race on skates) on March 9 -10, 2018. The Flying Canoë Volant, a cultural event celebrating local history in Edmonton's French Quarter is on from February 2- 3, 2018 and for cross-country skiing aficionados Canada's largest ski event, the Canadian Birkebeiner takes place from February 9 -10, 2018 and offers two courses – one that's 31 kilometres long and the other 55 kilometres.

Backcountry Lodge Experience in Alberta
One of the nicest ways to enjoy winter is to ski or snowshoe into a backcountry lodge. There are quite a number to choose from in Alberta. Near Banff try Sundance Lodge as it's one of the few that allows one night stays and it's a relatively easy ski in. Skiers with more experience will love the coziness and excellent food at Skoki Lodge. Shadow Lake Lodge makes a great base for more exploring on skis while Tonquin Valley Lodge in Jasper National Park requires a long ski in so it's best left to those with lots of backcountry experience. In Waterton Lakes Provincial Park, families can check out Cameron Hut, run by the Alpine Club of Canada.
Cabins at Shadow Lake Lodge in Banff National Park

For later in the season, hard core skiers will love the four to five day Wapta Traverse that starts at Bow Lake.
For a very adventurous trip into a backcountry hut ski the Wapta Traverse
Come see for yourself why Alberta is such a hot-spot in winter.